Ancient superstitions surrounding the numerology of the Dragon Boat Festival's date continues to inspire Chinese to climb mountains on this day.


The tradition of climbing mountains during Dragon Boat Festival comes from the historical associations between misfortune and double 5s - the holiday falls on the fifth day of the fifth month of the lunar calendar. Ancient Chinese would scale peaks to collect such auspicious plants as Asiatic wormwood and peach branches to hang on doorways to ward off evil spirits. While the custom of using flora to fend off demons is rarely seen today, the practice of scaling alpine heights persists. We look at some of the country's most majestic mountains to ascend during the festival, which falls on June 12 this year.


Changbai Mountain, Jilin


Changbai Mountain is a dormant volcano with an eruptive history in Jilin province's southeast. It is a hot destination for summer vacation of affordable China tours.


Its most celebrated scenic spot is Tianchi Lake - the country's highest crater-lake and its deepest overall. It's hailed as one of "China's most beautiful five lakes".




The lake spills over a cliff as the Changbai Mountain Grand Waterfall. The cascade is adjacent to a 1,000-square-meter hot spring that bubbles from 13 mouths.


Visitors welcome the hot water, since temperatures on the mountain are freezing through much of June.


Snow sports are a major draw at Changbai, whose forest hides a 120,000-sq-m training base that hosts international skiing and ice-skating competitions.


Most locals are ethnically Korean, and celebrate their own as well as Han festivals. These observances include more than 300 traditional games, such as tug-of-war and wrestling. They spend Dragon Boat Festival swinging and standing on seesaws.




The local cuisine includes stewed dishes and Korean-style pickled vegetables.


Locals also make rice cakes and steamed buns stuffed with sweet bean paste, which they freeze in crocks. They bury meat in snow, making use of the mountain's natural refrigeration.


The alpine range is known for three treasures - ginseng, pilose antler and marten - and rare herbal medicines. The mountain also provides liquor ingredients, honey, nuts and fruits.


IF YOU GO


The Changbai Mountain Airport is China's first airport built for forest tourism of China. It offers round-trip flights to major cities such as Beijing and Shanghai.


The Baihe Train Station is accessible from Changchun by Train No K953 or from Tonghua by No 4241. It's a three-hour bus ride from the station to the mountains.


Wulong Mountains, Hunan


The Wulong Mountains are a steep range in northwestern Hunan province that contains various topographies - stone forests, karst caves and waterfalls.


More than 700 tree species, including about 20 rare varieties, cover the mountains. Some of Wulong's redwoods are more than 1,000 years old.


Wulong was the lair of about 100,000 bandits before New China's founding in 1949. It was a battlefield and stage of many tragedies. Hikers have discovered human skulls and bullet casings in Baixiao Cave.


You should consider Wulong Mountains for your popular China tour package.


TV series set in that period are also shot on the mountains, where the stories actually happened.


Today, the mountains are serene, and 16 ethnic groups peacefully coexist on their slopes.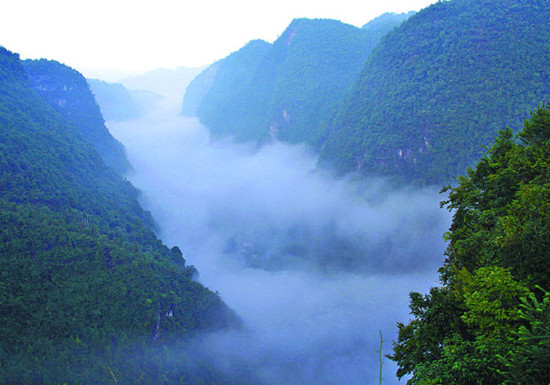 They've created a melting pot of cuisines that are celebrated for peppery chicken and duck hotpots, double-cooked pork and crock-baked mushrooms.


Most street snacks are made of rice, and the Tujia and Miao ethnic groups are particularly fond of rice tofu.


IF YOU GO


The Wulong Mountains scenic site is open from 7:30 am to 6:30 pm daily.


There are many buses operating between Jishou city and the mountains. Travelers can take Train No K267 from Beijing to Jishou, No 1607 from Shanghai to Jishou or No K503 from Guangzhou to Jishou.


Wulong is 28 km from Phoenix Old Town (a very hot tourist destination for China vacation packages).


It's much cheaper to stay in hotels in the neighboring county than in the mountain area.


It's not easy to find a campsite near the mountains.