I can tell the cabbie is angry. I've already asked him to stop three times so I can photograph the breathtaking vistas outside. But when he kicks me out of the taxi it still comes as a surprise: 'I'm not going any more,' he barks. Having come all this way, though – from Xining, the provincial capital of Qinghai, via rickety bus to Huzhu, where I had chartered the taxi for the day – I am determined to get to my end destination: Youning Temple.I cajole the driver on, through villages burning wheat chaff and past rocky mountainside, and on arriving at Youning, I am richly rewarded for my efforts.


Most travellers who come to this province rush on to visit the very photogenic Qinghai Lake which is the top attraction for top China tours. Youning, by contrast, is firmly off the tourist map. A 17th-century monastery founded by the Mongolian fourth Dali Lama, it's the kind of place where there are no entrance tickets, camera-clad daytrippers are few, and most people visiting are local pilgrims. It's a little slice of what Qinghai is all about: here is where Han China ends. Sardine-tin urban centres are replaced by a hard-scrabble assortment of soaring peaks, yak butter-scented monasteries, villages populated by Tibetans and other ethnic minorities,and piercing blue skies with only you underneath them.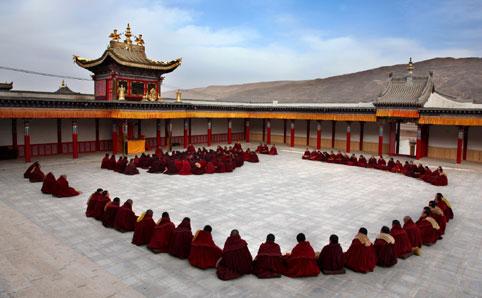 Like most monasteries in the province, Youning makes the most of Qinghai's great open spaces. It is a sprawling affair, with the main building set on the edge of a forested valley, and dozens of smaller temples and stupas perched on top of the surrounding mountains. After a brief visit to the principal prayer hall, I urge the driver onwards, along a winding, ribbon-like road, to reach a trailhead up to one of the mountainside shrines. From there, I ascend a series of stone steps on foot.


Boldly coloured prayer flags flutter overhead, increasing in density until I reach the end of the stone stairs, where a ladder protrudes through a trapdoor. At the top of the ladder is the prayer hall, musty and dark with a row of copper Buddha statues along the wall. But the real draw is the view: a rugged sunset that inspires the serenity and reflection appropriate to a holy place. Not a bad way to end my first day in Qinghai.

The rest of my trip is spent in Tongren, a town that is famous for producing vibrant devotional paintings known as thangka. The monasteries here are not so much the spartan cloisters you would associate with monastic living, but more like art schools, where boys as young or eight or nine trade in their secular lives for a chance to learn valued artistic skills. At Tongren's Wutong monastery, I am introduced to a balding monk – his crimson robe matching high-top sneakers; these and a deluxe watch demonstrate just how profitable thangka painting can be. He grabs a piece of chewy milk taffy, left as an offering to one of the colossal Buddha statues, and casually tosses it to me. 'Here,' he chuckles. 'Buddha candy!'


Slightly taken aback by this stunt, I follow him past the impressive collection of paintings, some dating back hundreds of years,and he points out a series that displays, in vivid, bursting detail, the China tours' journey towards enlightenment of Siddhartha, the founder of Buddhism. One piece, I learn, was saved from destruction when a portrait of Mao was painted on its reverse and the original image was turned to face the wall.


We pass a group of teenagers, their eyes only a hand's length from the canvas, studiously rehearsing the painting technique with their retinas. Paintings can take months to produce, and the best ones are identified by their fine brushstrokes, softly graded colours and figures that are meticulously detailed down to the thin wrinkles on ageing faces. Some galleries give visitors a magnifying glass to appreciate the full detail.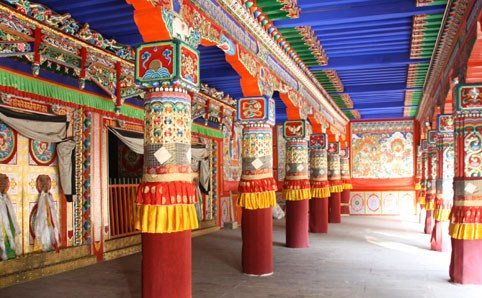 The monk concludes my visit by showing a print of a painting he'd done for the Louvre. I briefly wonder whether he thinks I am a potential client. For a souvenir, his works area little out of my price range, but at least I am able to take away with me the memory of their vivid scenes.


Where to stay for your popular China tours.


Lete Youth Hostel has clean dorm rooms from 35RMB, and helpful, friendly staff. 15th Floor, Building 5, International Village Apartment, Xining.
Qinghai Hotel is a good option for those looking for higher-end accommodation, with double rooms from 500RMB. 158 Huanghe Lu, Xining.
Telecom Hotel in Tongren has twin rooms with clean bathrooms from 130RMB. 38 Zhongshan Lu, Tongren.


Getting there


Hainan Airlines flies to Xining from 1,540RMB return (including taxes, booked through www.ctrip.com). To go to Youning Temple, take the hourly public bus to Huzhu for 60RMB from Xining long-distance bus station, arriving in Huzhu around 90 minutes later. At Huzhu, grab a cab and negotiate a round trip to the temple for around 100RMB. Buses from Xining to Tongren (34RMB) leave every 30 minutes from the Jianguo Lu bus station and take four hours.


You can consider Qinghai to contain in your China tour packages.