Want your next holiday to be a bit more spiritual? We pick out China's best spot to ogle historic masterpieces of Buddhist art.


Mogao Grottos


Dunhuang, Gansu Province


Academics can't quite agree how Buddhism first arrived in China from India, but one of the most plausible theories is that it came along the Silk Road (Silk Road travel). On the fringes of the Gobi desert, near the important Silk Road stop of Dunhuang, you find the Mogao Grottos. Inside, they hide one of the biggest collections of early Buddhist art in China.


While the Buddhist caves further east are famous for having huge statues fashioned out of rock, the sandstone at Mogao was too soft to be carved. Instead, travellers who make it all the way out here to China's Wild West, are treated to a gallery of busy, and boldly coloured, murals and clay figures, preserved for posterity by the dryness of the desert. Spanning a period of around 1,000 years – a period that began somewhere around 360 AD – the art produced in these caves is a testament to the cultural melting pot that was created as merchants, monks, pilgrims and painters from all over China, and as far east as Afghanistan, converged here.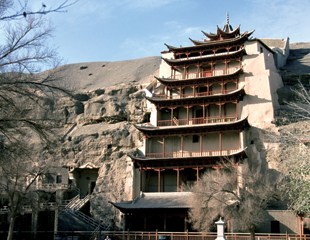 The earliest paintings feature serene, robed Buddhas in an Indian Ghandaran style or show Central Asian influences with bare-chested, bejewelled Buddhas and scantily-clad flying angels. The level of detail preserved is startling, with even the most sinuous brush-stroke on the painted folds of fabric surviving, while later murals are more Chinese-looking. Mogao is not without colossi too: 35.5m standing and 17m reclining clay Buddha statues await visitors.


While you're there Check out Dunhuang's bustling night market and take an overnight camel trek into the rolling dunes.


Where to stay With its Gobi desert backdrop and impressive architecture that mimics the entrance to the Mogao Caves which is listed as the attraction of top 10 China tours, The Silk Road Dunhuang Hotel was good enough for Bill Gates .


How to get there Return flights from Beijing to Dunhuang cost from 4,000RMB with Air China. The caves are located around 15km outside of Dunhuang. A special bus (marked 莫高窟) can be caught outside the Silu Hotel, 6 Huanchengdong Lu.


Yungang Grottos


Datong, Shanxi Province


While the murals at Mogao evolved over a period of 1,000 years, the Buddhist cave art at the Yungang Grottos (150RMB entrance) was completed at a pace more familiar to those acquainted with the startling speed of Chinese construction today. In a period of just 60 years (460-520 AD), during the reign of the Northern Wei Dynasty, over 51,000 Buddhist figures were carved into 252 caves along a one-kilometre stretch of the Shi Li River.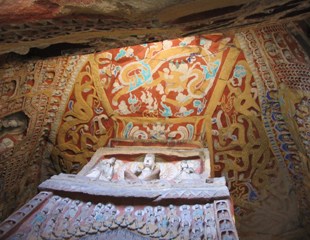 Be prepared to be blown away by the giant Buddhas – from the 17m-tall crossed-legged statue sitting in Cave 5 to the giant figure lying sideways-on in Cave 3. In the latter, there are no barriers, so you can get really close and appreciate the craftsmanship – just make sure you don't stand on the statue, as some other tourists do for popular China tours.


These grottos positively brim with tales. Carvings, bright frescos and inscriptions depict Buddha's life, all the way from his miraculous birth through to his enlightenment. Look closely at the fi ve caves, numbered 16-20, known as 'Monk Tanyao's five caves'. These are some of the earliest on site and each houses a giant sitting Buddha carved to the likeness of a different Northern Wei emperor. Aside from serving to prove the vanity of rulers throughout the ages, these statues have remarkable features. Notice the high-bridge noses, deep-set eyes and wide shoulders – all reminders that the Wei were a nomadic clan of Turkic, not Han, origin.


While you're there Visit the Hanging Monastery 64km south-east of Datong and trek the nearby Heng Mountain, which is held sacred by Daoists.


Where to stay Offering centrally located, comfortable and modern accommodation, the Yungang Jianguo Hotel has doubles from 346RMB per night.


How to get there Trains from Beijing Railway Station to Datong take around six hours and cost 58RMB for a hard seat. The grottos are situated 20km out from Datong. To get there take Bus 3 from the Xinkaili bus stop.


You can learn more via China tour agents.