Longmen Grottos



Datong, Shanxi Province

When the Northern Wei moved their capital from Datong to Luoyang in Henan province in 493 AD, the dynasty turned its artistic and spiritual attention to the nearby caves at Longmen (120RMB entrance; 0379 6598 0972). Their work was continued by successive dynasties, including the Tang, from 493 to 1127 AD. Following the philosophy that more is more, they created a collection of carvings at Longmen that were even more numerous than those at Yungang, with over 2,000 grottos housing 100,000 sculptures within. Longmen Cave is a must-see in Luoyang and make contribution to local China tourism.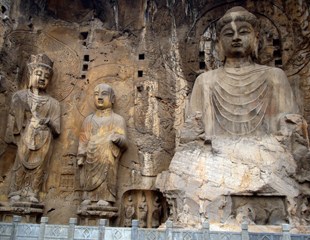 Today, visitors can feast their eyes on a dense array of disordered niches that run along several levels of the exposed cliff surface, on the west bank of the River Yi. Few are sign-posted but be sure to look out for the oldest cave, Guyangdong, which still shows stains from its original colour pigments. At the later caves, the features of the statues are more Chinese, and the bodies fuller, reflecting Tang Dynasty ideals, and heralding the flowering of a fully fledged Chinese form of Buddhism during this period. In particular, don't miss the central Buddha in the Fengxiansi, built in 675 AD, which measures over 17m and is around 15-20 times larger than any others at this site.

Sadly, though, history has left its unforgiving mark. The middle caves bear the scars of early 20th-century Western relic hunters – missing heads, hacked off whole, now sit in the likes of New York's Metropolitan Museum of Art. There was also much damage inflicted during the Cultural Revolution, evident in the countless defaced tiny Buddhas that fill recesses everywhere you look.

While you're there Check out White Horse Temple, north-east of the city, supposedly the first Buddhist temple in China. And 80 kilometres further afield is the Shaolin Temple, a must for kung fu fans.

Where to stay Christian's Hotel – this boutique hotel with themed floors provides a free pick-up and drop-off service (doubles from 819RMB per night).

How to get there Trains from Beijing West take 8-10 hours and cost from 106RMB for a hard seat to Luoyang. From Luoyang station, take Bus 81; the journey to the caves should take around 40 minutes.

Dafo Buddha


Leshan, Sichuan Province

What it lacks in numbers (there are only 90 stone carvings at this Buddhist site, which costs 90RMB to enter), Leshan makes up for in sheer size. The Dafo, or 'Big Buddha', is, with a height of 71m, the world's tallest stone Buddha. Its nose aloneis over three times the size of a grown adult. Carved out of a red cliff face in the 8th century, this leviathan watches serenely over the confluence of the Minjiang, Dadu and Qingyi rivers. The spot was chosen because the tempestuous currents here had claimed the lives of many a local. Old Dafo did indeed deliver safer waters – although scientists speculate that the rock displacement caused by the statue's construction may have been the real reason the stronger eddies were killed off.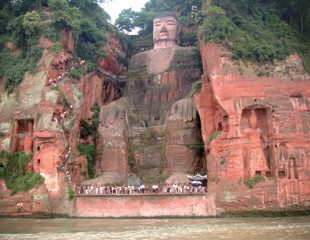 No matter, the pilgrims who flock here believe it is a sign of Buddha's divine presence. There are two ways to see Dafo. You can take a ferry ride from further down the river (70RMB; boats leave from Leshan City Pier). This has a smaller queue and you'll be able to see two other large figures, either side of Dafo, not visible from the shore. But the boat only stops for ten minutes or so in front of the statue – just enough time to you to snap a picture – and it doesn't get that close. See Dafo ashore and you'll have to queue – sometimes up to an hour – for the privilege.

But as you snake your way down the stairs, you can admire the smaller carvings on the cliff side and chat with your fellow pilgrims – the countryside believers caressing prayer beads, the Nikon-toting city slickers, and even the occasional orange-clad monk. Once at the bottom, you can crane your head up to admire Dafo in all his gargantuan glory for as long as you like.

While you're there Join the locals supping and playing mahjong in one of Leshan's many teahouses or climb the nearby 3,099m Mount Emei, one of China's four holy Buddhist mountains for China vacation deals. On the summit, you'll find both a portly golden statue of Bodhisattva Puxian riding his six-tusked elephant, and Suicide Cliff – the near-vertical face of the mountain where clouds rush upwards as if to meet the heavens.

Where to stay An-e Hotel is a relatively new, clean hotel located a short taxi ride from Dafo. Doubles go for 168RMB.

How to get there From Chengdu's Xinnanmen Bus Station, take the bus marked Leshan for a two-and-a-half hour ride. To get to the Giant Buddha from the town centre, take Bus 13 or it's a 15RMB taxi ride.

Sumeru Grottos


Guyuan, Ningxia Province

The grottos (50RMB; 095 4261 0325) at Mount Sumeru (also known as Xumishan, the Chinese transliteration of the original Sanskrit) are somewhat of a mystery. Historical records offer little detail about this Buddhist site, with most information coming from the cave inscriptions themselves. Located in the autonomous region of Ningxia, north-west China, close to the Silk Road's origin at Xian, the grottos are far less well-known than others in China, so have fewer crowds. Sumeru Grottos is an option for popular China travel package.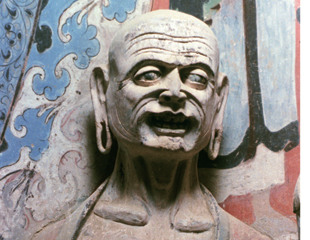 With the craftsmanship attributed to travelling monks and artists, the caves have been dated to between the 4th and 10th centuries, and are thought to have been an important Buddhist shrine in their heyday. There are more than 300 statues in the 100-plus caves, the most prominent being the 20m-tall Tang Dynasty Buddha, which sits majestically in a throne-like enclave carved into the distinctly rusty-red sandstone; the mountain and its surroundings are awash with the same tone. Other caves are filled with colourful wall paintings and statues; many of the earlier ones dance with obvious Indian and central Asian influences.

However, don't be surprised if you find over half of the caves bare. This time, it's not a case of dastardly fortune hunters pillaging their hearts out. Instead, experts speculate that these empty caverns were once the abodes of monks.

While you're there Head to Ningxia's capital, Yinchuan, for its interesting Hui Muslim neighbourhoods, the nearby un-restored Ming Dynasty walls and the strange, pyramidal earth mounds that are the Imperial tombs of the Western Xia Dynasty.

Where to stay Yijia Hotel, set 5km away from Guanyuan's railway station, offers the smartest accommodation in town and free in-room internet access, for 239RMB for a double room.

How to get there Trains from Beijing Station to Yinchuan take 13 hours and cost 281RMB for a hard sleeper. From Yinchuan take the six-hour train to Guyuan, which costs 54RMB for a hard seat. To get to Sumeru, take the yellow bus from outside the Number 2 Hospital in Guyuan to Xumishanlukou. The journey should take around an hour and a half.

If you want to know more, you can contact with China travel agents.