Getting old isn't something to fear - if you live in the right place.
One such locale is Hainan province's Chengmai county, which was recently recognized by the International Expert Committee on Population Aging and Longevity (IECPAL) as a "world longevity area". So it is an optional destinationf for your China vacation deals.
"Getting old in Chengmai is something to look forward to," says the committee's chairman, professor Joseph Troisi.
The average life expectancy is 77.79 years, the county's deputy head Zheng Fangping says.
Chengmai is home to 215 centenarians - 38 per 100,000 people. That ranks No 1 among all Chinese cities and counties.
Chengmai is in Hainan's northwest, near the capital Haikou. The county is known for high forest coverage and selenium-rich soil.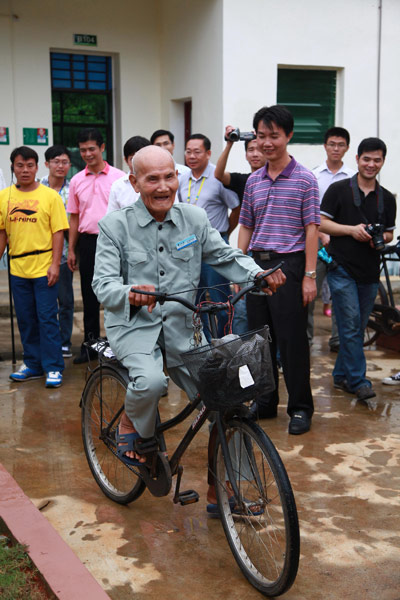 It's the province's third oldest city, with about 2,100 years of history.
About 18,500 of the county's 565,000 people are older than 80. Among them, 896 are couples.
IECPAL is an NGO established this year by the Northeast Asia Economic Forum. The forum and Hainan's provincial government organized the Second International Conference on Aging Population and Longevity in Chengmai from Sept 5 to 7.
More than 60 experts, scholars and government officials from Japan, South Korea, the United States, the United Kingdom, Italy, Germany and the European Union attended, as did representatives from China's most recognized longevity areas.
The conference produced the Chengmai Manifesto that suggests IECPAL should study the world's longevity areas. It also recognizes Hainan (famous destination for China best tours) as a "world longevity island" and Chengmai as "world longevity area".
An IECPAL working group released a report revealing similarities between Chengmai and other areas known for longevity, such as South Korea's Jeju and Japan's Okinawa Island. The report says that while genetic factors exert a 20-30 percent influence, environmental factors account for at least 70 percent of influence over life expectancy.
The report also says these areas are near major rivers or are on islands, and the climates are mild. They're located outside regions where respiratory and cardiovascular problems are common. They aren't polluted, and there aren't histories of regional illnesses.
The group found Chengmai's drinking water is high-quality and mineral-rich. The soil meets national standards.
Locally produced rice, vegetables and fruits are rich in calcium, magnesium and selenium. The county is famous for its excellent coffee and oranges.
Zheng says Chengmai is renowned for clean air, pure water and high-selenium produce.
The region has a maritime climate, with abundant sunshine, high temperatures and copious rain. The county faces the ocean to the north, has plains in its center and is fringed by mountain ranges to the south. Its forest coverage exceeds 51 percent.
Most of Chengmai's elderly are farmers, who grew up working in the fields, and have enjoyed routine eating habits and life styles.
The centenarians are said to be warmhe arted and hospitable, and enjoy outdoor activities.
The county has a longstanding tradition of respecting the aged. Its government gives every centenarian a 600-yuan ($96) monthly subsidy, and everyone older than 60 receives a pension.
In 2005, Chengmai (an alternative place for popular China travel package) was recognized by the Gerontological Society of China as the 10th "longevity area in China".
IECPAL's work group analyzed Chengmai's centenarians' hair and found more zinc, selenium and strontium compared to centenarians in other parts of the country. They also found lower levels of such harmful substances as cadmium and lead.
A survey of the county's centenarians found fewer than 20 percent believe they are not in good health. About 77 percent can take care of themselves. About 69 percent are happy with their sleep quality.
And 80 percent are satisfied with their quality of life.
IECPAL suggests that China's unique traditions of maintaining health and longevity are globally important.
But ensuring their quality of life is challenging, Troisi says.
Obtain more via China guide