When you have a Suzhou travel, you can visit Yangzhou by the way.
Daming Temple (大明寺; Dà​míng​sì; Lit. Temple of Abundant Light​). 8AM-4:45PM. Rebuilt after being destroyed in the Taiping Rebellion, this temple originally dated from the 5th century AD. There is a spring next to the tea house.


Hanlinyuan Museum. 8:30AM-5PM. A magnificent tomb for Liu Xu, ruler of the Guangling Kingdom. It is five stories deep, with different levels housing things like a warehouse, living quarters, and a coffin on wheels.
Slender West Lake 瘦西湖 (Shouxihu). Very slim lake winding through the city center. Several pavilions dot the park around the lake that make the park like


Yangzhou Museum (扬州博物馆; Yáng​zhōu​ Bó​wù​guǎn​). 8:30AM-11AM, 1PM-5PM. Yangzhou museum is situated inside the 1500-year-old Tianning Temple, the only imposing historical architectural complex remaining in Yangzhou city proper. Covering an area of 12,000 square meters, Tianning Temple comprises an arch over a gateway, three magnificent main halls, and a dozen wing-rooms. This museum has splendid displays of things like a boat salvaged from the Grand Canal that crosses through eastern China. The museum used to be housed in She Kefa temple downtown, but now it is on the west side, in a new purpose-built building, known as the "Double Museum" (Shuang Bowuguan). It is "double" because the other tenant in the building is a museum of traditional Chinese book printing.
Shi Kefa Memorial (Shi Kefa Jinianguan), and his temple nearby: honor a Ming general who refused to surrender the city to Qing rulers in 1645.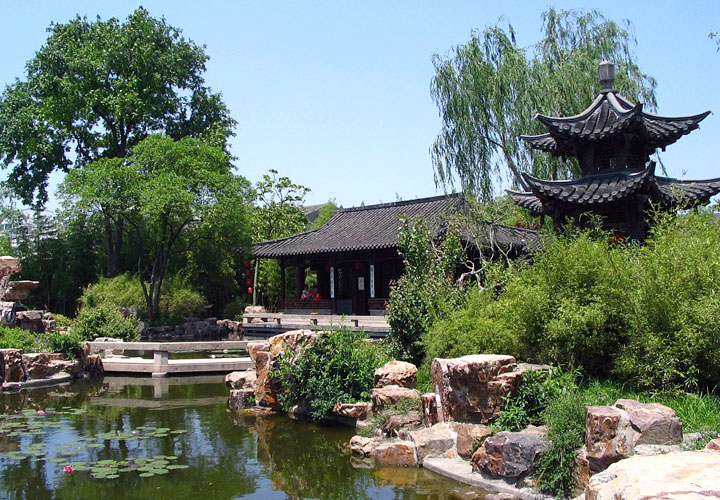 Ge Yuan 个园 A lovely garden with sections representing the four seasons and with pavilions, open 7:30am-5pm daily, discount with student ID
He Yuan 何园 This true scholar's garden is cleverly arranged garden with several tea houses, open grottoes, and pleasant view. One of the best gardens in Jiangsu Province. open daily 7:30am-6pm, discount with student ID
Lu Shi Yan-shang Zhu-zhai (卢氏 盐商 住宅) A lavishly furnished home with 100 rooms that belonged to a local salt merchant, open daily 8am-5pm
Garden Tomb of Puhaddin Said to be a descendant of Mohammed, Puhaddin's grave is in an inscription-covered building on the grounds of the local mosque. Open daily 8am-5pm
Wenchang Ge文昌阁 (Promoting Literature Pavilion) Once part of the Confucian Academy, this pavilion is all that's left.
Although it is not included in the itineraries of top 10 China tours, it is very worthwhile to visit.