There are many Buddhist temple in China. Dajue Temple is one of them. Dajue Temple is popular not only for its long history and ancient construction but also for its distinctive but charming view in the four seasons. The following depict its beautiful view in autumn for your Beijing tour.
In fall, people flock out to the western Beijing temple to see the 1000+ year old gingko tree. Situated in the courtyard between the Amitabha and Mahavira Halls, it towers over them, reaching its ancient arms up toward the heavens, frozen mid-prostration. An explosion of glowing leaves shimmer in the air, clinging to the branches for a short while longer. For the moment, this tree is the star of the show, and shutterbugs flock to her before her beauty momentarily flutters away.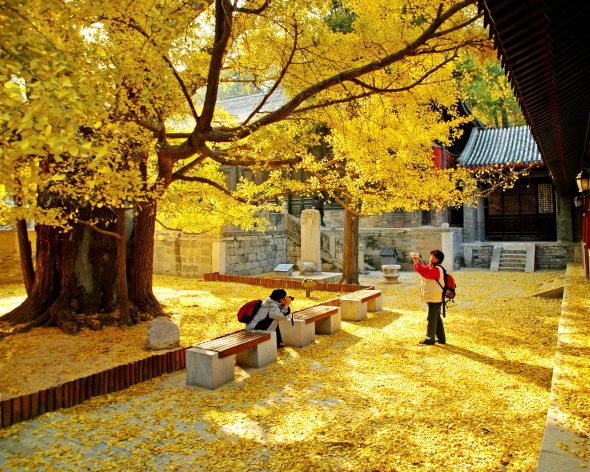 Hobby photographer Wang Xin was excited to shoot such an ancient and beautiful tree. "It's really hard to find a gingko tree like this one," he said in wonderment. "The tree has grown for a thousand years, so it's amazing to see it. And I'm happy to take pictures of it. Taking photos can be like a religious practice. Religious practice isn't just reading texts; it can be every day, every second of your life."
Wang noted how Dajue Si Temple miraculously escaped the last two days of snowfall. "It shows that the leaves don't want to leave; they want people to see their beauty."


Sun Jingwen was visiting the temple grounds for the first time, and was particularly impressed with the gingko tree, which he likened to a giant bonsai. "It's better than I expected," he admitted, noting that his timing to see this tree was just right. "I thought, 'If I don't come, I'll have to wait until the next year.'"
The temple grounds also include a wonderful park area toward the back, filled with trees, rugged stone walkways, and a red pagoda. Rust and sunshine colored leaves hesitate over whether to join their friends resting on the ground.


And of course, the temples themselves are lovely, dating back to the 15th century and housing a large number of centuries old Buddhas. Although the temple is centuries old, it stays current with its Weibo (microblog) account, where periodically uploaded photos show the current state of leaves or flowers.
If you have last minute China travel deals, Dajue Temple may be one of your choice.